出荷日目安:

Ships within 5 business days
Regular price
Sale price
¥105,273
Unit price
per
Sale
Sold out
View full details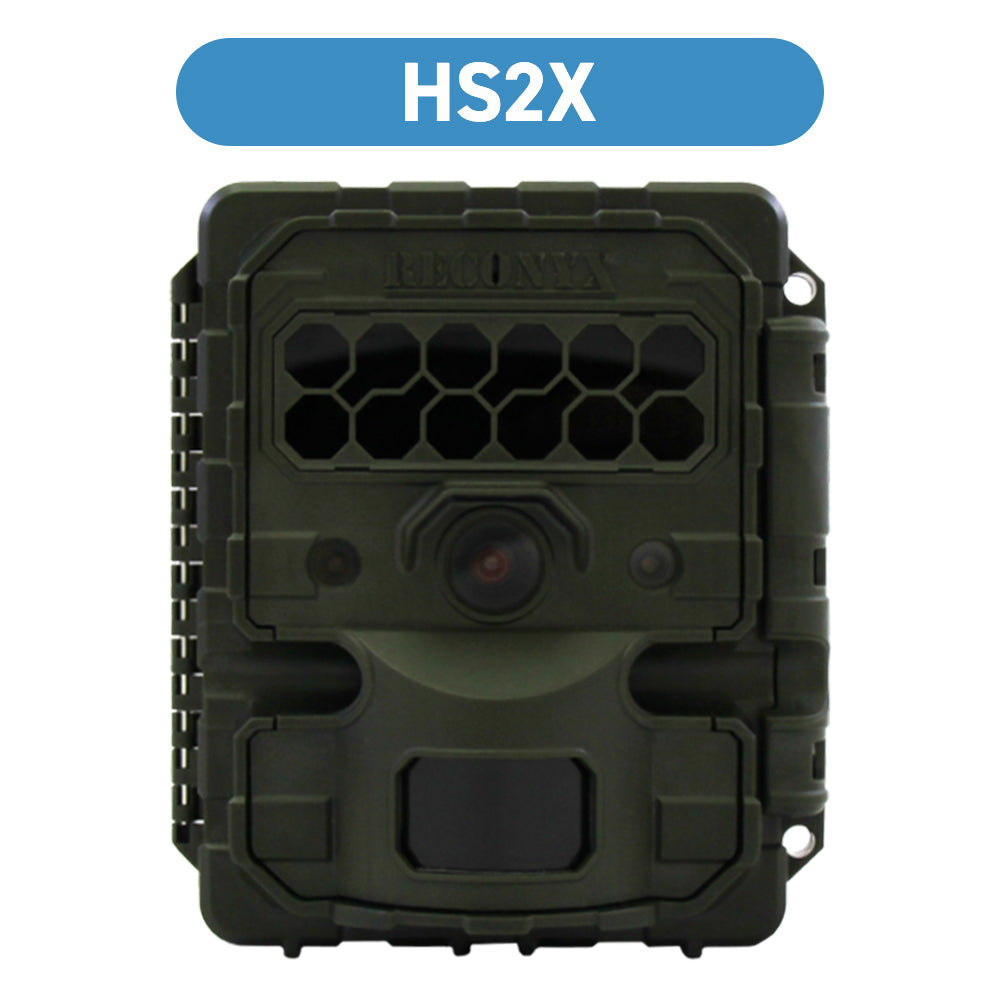 商品説明
A trail camera (sometimes called an automatic camera, sensor camera, or wildlife camera) is an automatic camera that captures wildlife. It is designed to be unattended and installed outdoors, and it is used by fixing it to a tree etc. with the attached strap.
It detects infrared rays emitted from moving objects with heat and starts shooting. It is installed in animal trails and feeding grounds, and automatically takes pictures of animals passing there. Since the date, time zone, temperature, etc. are recorded on the image data at the same time, it is often used for hunting and ecological observation.
The HS2X shoots at an ultra-high trigger speed of 0.25 seconds, so you won't miss shots of fast-moving animals. You can also shoot movies with sound up to 90 seconds. Dustproof and waterproof standard IP65, so it can be used outdoors. Equipped with SD card overwrite function, long-term operation is possible. In addition, you can set up to 5 different time periods during the day.
RECONYX
Reconyx has been designing, manufacturing and selling cameras since 2002 based in Wisconsin, USA. Reconyx cameras are made in the United States and are highly regarded in America, the home of hunting, due to the excellent performance of lenses and sensors.
image taken
Product features
◯ Trigger speed of 0.25 seconds prevents missing shots. You can also shoot fast animals that you couldn't shoot until now.
◯ Captured image/video data is saved on an SD card (sold separately).
* If you set the overwrite function, you can use it without worrying about the capacity of the SD card.
◯ Time-lapse photography is possible. You can observe changes over time.
◯ You can set up to 5 days of the week and times to operate the camera. Prevents empty air during the day and reduces battery consumption.
◯You can take rich colors and clear pictures during the day. You can take clear pictures with little blur even at night.
◯ Up to 10 continuous shots can be taken at once.
◯ As a battery-saving measure, the frame rate will drop when shooting video for a long time. Battery life is claimed to be around 40,000 stills, or two years.
*Varies depending on usage conditions and environment.
Information on accessories
You can purchase a security box and python lock separately to protect your camera from theft.
A steel security box to prevent the automatic shooting camera "RECONYX HS2X" from being stolen.
A cable key to protect your wildlife camera from theft. It's thin and light, so it's suitable for multiple carrying around. locked with a key. Fits most wildlife cameras. *The two keys that come with the cable are dedicated keys for the cable that comes with it. If you purchase more than one, please be careful about managing the keys.
Trail camera useful knowledge
Q: What is trigger speed?
A: It is the time from when the sensor detects the subject to when the shutter is released. If the trigger speed is slow, you may not be able to capture fast-moving animals.
Q: What is No Glow?
A: It is an infrared image that is invisible to the animal's eyes. Suitable for monitoring wary animals. When shooting at night, it becomes black and white.
Q: What is time-lapse photography?
A: It is a method of connecting still images shot continuously at regular intervals and displaying them as a video. Changes over a long period of time can be reduced and observed in a short period of time.
Q: What is the video recording time?
A: It refers to the time that continuous shooting is possible for one shooting. Movie shooting: In the case of 5 to 60 seconds, it means that continuous shooting of up to 60 seconds is possible.
Product specifications
トリガースピード
0.25秒
静止画 画素数
ワイド:2048×1152/標準:2048x1440
動画解像度
ワイド:1024x576/標準:1024x720
カラー
日中カラー、夜間:白黒
センサー反応距離
30m以下
フラッシュタイプ(夜間撮影時)
ノーグロー(不可視光)
フラッシュ照射距離(m)
45m以下
※30秒以上の動画ではフラッシュ出力が減少します。
サイズ(高x幅x奥/cm)
14x11.4x6.4cm
重さ(g)※ バッテリー無し
約390g
バッテリー(乾電池×本数)
単3電池12本
外部メモリー(SD/SDHCカード 最大)
~512GB
動画撮影(秒)
~90秒 10秒を超える動画はフレームレートが低下します。
録音機能
あり
タイムラプス撮影
5秒~60分間隔で設定可
動作温度
-28~+48℃
カメラネジ
あり(底面)
表示言語
英語
標準構成品
本体、ベルト、日本語マニュアル
メーカー保証期間
5年間※仕様やデザインにつきましては、予告なく変更になる場合がございます。